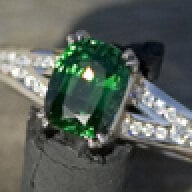 Joined

Aug 3, 2006
Messages

9,613
Just wondering if anyone has any information on best ways of resolving this...

I was emailed by my BIL today asking for advice. His work colleague''s wife took her e-ring into a local independent jeweller to have it cleaned about 4 weeks ago. She''s had the ring for about 5 years and I believe it is an rb around the 1ct mark in a simple solitaire setting.

After she picked it up she started to think it didn''t look like ''her diamond'' and talked to her husband about it.

He took it back to the appraiser that he used when he first bought the ring and he confirmed that it was not the same diamond - in fact it wasn''t even a diamond.

My BIL is getting me some extra info and more details, but from what he knows she wasn''t in the habit of having her ring cleaned by a jeweller and that she did leave the ring with them rather than waiting for it to be done.

Until I heard about the appraiser I admit I did think that she probably didn''t recognise her stone without 5 years of grime on it... especially as this kind of situation is very rare and most jewellers wouldn''t want to take the risk. The fact it was a 1ct rb made me more suspicious as that would be a very sought after size in the UK and easily disposable, plus who knows what problems people have in the current economic climate.

I would have thought it would be hard to prove that the diamond was removed at this particular jewellers.

I suggested that they contact their insurance company and have them handle it. Any other or better suggestions?