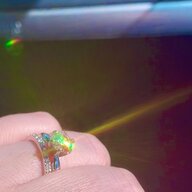 Joined

May 6, 2019
Messages

152
A couple of days ago my wonderful husband said I can have diamond studs for our second wedding anniversary! It was such a lovely surprise as we aren't big gift givers, and he's a very keen saver. It's also a welcome distraction from these current bleak times, selfish as that may seem, LOL.
I would really appreciate some help to decide between two vendors, for a starter pair which I plan to upgrade every few years. The budget is $1100 including settings (14k white gold 4 prong baskets with la pousette backs) and I have two quotes but I really can't decide who to go with.
First is Whiteflash, where I can get K, VS2, .66ctw ACAs.
Second is IDJ, where for the same money I can get H-I, SI1, .70ctw uncerted PS cut quality (but going to enquire about J-K and go slightly bigger).
Clarity isn't a priority, I'm happy with "eye clean". But there are no SIs in the price range at WF currently.
I guess since they're almost baby sized at this point, the upgrade policy is going to be the most important aspect? I think with IDJ I have to just keep the receipt. But what if I lose it?! We tend to move a lot so it's entirely possible.
I'm also wondering if once I get to a more sizeable pair, I'll be bothered about them being uncerted if I go with IDJ. Or is this not such an issue with studs as it is e-rings?
Would love your advice/input! Thanks so much