I recently bought a pair of diamond stud earrings for my wife as a Christmas present at a Black Friday sale. I had been looking exclusively online at
bluenile
and
James Allen
, preferring
James Allen
because photographs of the actual diamond are available. But, I thought I would check out the Black Friday sales at the mall, just in case there were some hidden gems (pun intended) amongst the jewelry store stock.
Based on my research thus far, I knew I probably shouldn't have, but I picked up a pair of earrings from Ben Moss (a Canadian jewelry store) with Canadian 0.53/0.54 diamonds with the following specs: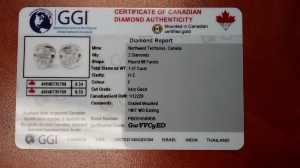 Diamond Certification is from GGI - doesn't seem like a particularly well-known/reputable lab.
Below are pictures I took of the diamonds this morning with my macro lens.
Image 1: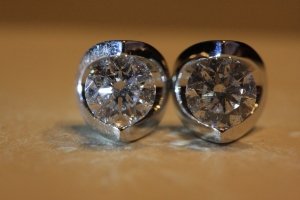 Image 2: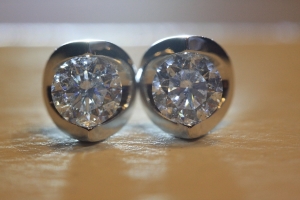 I like the fact that they are of good colour and Very Good cut (supposedly), but looking at the close up images I took this morning, I am not at all impressed with the clarity - they seem like particularly included I1/I2 diamonds. I have a number of other photos of them too, including from the side if anyone wants to see them.
I am tempted to return them and get these diamonds from
James Allen
for a few hundred dollars more:
http://www.jamesallen.com/loose-diamonds/round-cut/0.41-carat-h-color-vs1-clarity-ideal-cut-pair-722682,722695
I'd like to stick to no more than $3,000 CAD for the earrings, and these seem pretty good looking at the specs. Any thoughts or words of wisdom?