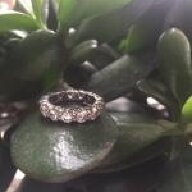 Joined

Oct 20, 2015
Messages

71
Hello everyone,
I need some sound advice on shopping in Antwerp. I have previously lived in the US and made all my jewelry purchases there. I live in the Netherlands at the moment and have a big B day coming, and in a market to get a diamond ring. I would love to buy via trusted online vendor in US but the tax and duty would amount to around 5000 usd extra... When I look on line in Belgium the prices seam triple of what I can find on
James Allan
or
blue Nile
( using that as my price guides... The VAT here is 21 %, which also takes a huge chunk out of the budget I have... Although my hubby is non EU sitizen so we could potentially could forgo that....? I could wait until we go back to US for a week next summer ( long after my b day), or could use some advise on where to go in Antwerp and would I be able to find same pride as in US.
I thought having about 14 000 for the stone and 4000 for the setting . I was looking to perhaps get Sebastian barrier setting, but no one ever heard of him in Paris when I went around few jewelry stores in Paris on my multiple trips this summer. I was could buy it via JBG and maybe pick it up my self, but without the center stone being set... Not sure why he can't set the stone..?
I am not really looking for MRB I am eather trying to recreate asscher girls ring, or do one with marquise.. Looking for a stone with a great cut and spread H I , vs2. I thought too bright would look strange in antique setting.
Any help would be appreciated!!!!!!!
Sorry long post, but the whole story
'