Joined

Oct 9, 2019
Messages

2
Hi All,
My fiancé and I have been researching criteria to choose a good stone for my forever ring. Thankfully we came across this wonderful community!

We have been learning as much as we can in the last week but I know it takes much longer than that to become an expert.
I found a stone at James Allen that appears to hit the mark. Our goal is to find something close to 1.5 carat and I would prefer a G/H VS1 or better. Max price is 14k, less would make my fiancé happy, no surprise there!
I don't want to upgrade the stone once it's set so finding the best option at our price point is key.
What do you all think? All opinions and suggestions are much appreciated!
7664118 - This True Hearts<sup>TM</sup> diamond, 1.44 Carat G Color VVS1 Clarity has ideal proportions and a diamond grading report from AGS
www.jamesallen.com
Specs:
1.44 G VVS1
Table: 56.6
Depth: 61.5
Crown: 34.5
Pavillion: 40.8
Measurement: 7.25 x 7.27 x 4.46 mm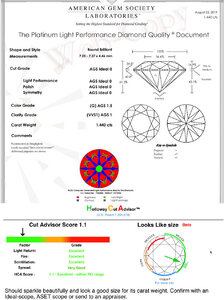 HCA score: 1.1
Last edited: