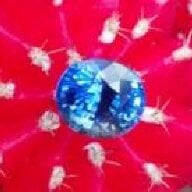 Joined

Dec 7, 2012
Messages

344
OK, so I've had this diamond for about 20 years. It is from a previous marriage, and to spare my new hubby's feelings, I've been reluctant to wear it. Recently I got the great idea of resetting it so that I wouldn't feel too bad about wearing it again. I really wanted to halo it like Luckky's RB in a cushion halo YG ring but didn't want to spend the $$ right now.
I found a nice platinum setting on Loupetroop. It wasn't exactly my dream setting, but both the price and the size were right (thanks, ccuheartnurse).
I took it to my local jewelry shop. They said that the reset shouldn't be a problem since the original stone and mine were almost identical sizes. After a week I called to get an estimate of when it might be ready. They asked if they could call me back. Sure. Later that day they called and said that they couldn't find it. They are very busy with the holidays and inventory, this has never happened before, and they will keep looking. A few days later I emailed the gal I usually deal with, and she says that they still haven't found it. This is not a chain store, but it isn't a Mom & Pop outfit either. They are a reputable jeweler and will make it good. I hope.
Fortunately, I have an EGL cert from when it was purchased, and the gal at the jewelry store appraised it for me a few years ago, so there's no question about the stone. It's 1.54ct RB which didn't score so well on the thingy you use here to predict performance, but it still sparkles and looks pretty.
Has anyone ever had this happen? What should I do?