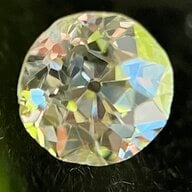 Joined

Dec 16, 2007
Messages

24,364
Boy am I glad I upgraded when I did! If I had not upgraded last year when I did, I would not be able to afford it now.
I was noticing in some recent threads that prices seemed really high all of a sudden, so I went to price out a diamond of my current stone's stats on
BGD
's website, and it would cost me $4000 more to buy my diamond now that it did 12 months ago! That is an increase of 40%.
And this pattern seems to be accross the board.
I am shocked. Is this expected to continue?