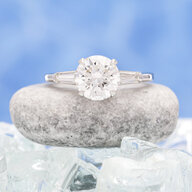 Joined

Jun 15, 2015
Messages

2,711
I set a diamond into a solitaire setting. *THE* solitaire setting, ever so popular on PS and just as beautiful as I expected. But guess what? It turns out a solitaire of this size (0.89ct) is just too basic for me. Goodness me I guess I've spent too much time on PS because I remember when a 0.75ct felt huge to me! Now it looks dainty to my eyes lol.
Soooo I have this other setting. Three stone, pear sides. I was going to put a blue zircon in the centre but decided it should have a more durable stone. It's a platinum setting and if I put in a durable stone with diamond sides, that's a solid ring! But I can't decide on a centre colour that I would really really love.I've had this setting for a year and it's just waiting! Which got me thinking...
Maybe I should reset the diamond into this setting?
-The pear sides are F/G at best, G/H at worst, but I have no idea, I can't recall. The centre diamond 0.89ct is an AGS E.
-Maybe it's a waste of my solitaire crown setting. Maybe with the right band(s) I could jazz up the solitaire.
-Maybe I should just put a round sapphire in there and call it a day.
-Or, sell it all and move on!!
-Or, upgrade the pear sides to match the colour. (This would be a pain but possible).
Well, this post feels so trivial what with the state of the world but I am trying to enjoy focusing on the trivial when I'm not busy worrying about everything ever. I hope you are all doing ok and thanks in advance for telling me what you would do if these were your supplies
PS - the mount with pear sides is with my goldsmith. I could possibly do a roadside pickup but I'm staying home as much as possible so I dunno. These are old pics but they show some details.