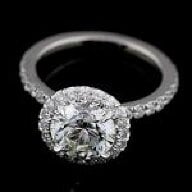 Joined

Dec 7, 2004
Messages

1,424
I have tried them all, steam, dawn, stuff in the plastic bottles, etc..........I was at BBB today and came across this product called
Connoisseurs Diamond Dazzle Stik. I read the instructions, easy to use, before I bought I went to Amazon to check out reviews, and they were all almost 5 stars, hard to believe.

So, for $7.99 with a 20% off coupon I bought a stick to use. You remove the red cap, you wet the brush with water, turn the metal end a few turns until this blue fluid comes out, then brush your diamond and setting, I let it sit for about 30 seconds, wash off, dry and you are done.......I have to say it was the cleanest most sparkly product I have used. I am not sure how long the fluid will last, probably not too long, but the finished product was terrific. Give it a try! You can buy on Amazon for less money.