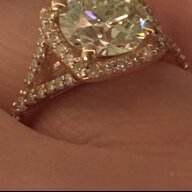 Joined

Sep 1, 2016
Messages

56
Good evening.
I recently acquired a gorgeous 2 carat VVS2 M colored diamond, and had it set in a simple yellow gold solitaire setting. Having seen the stone loose, I am pretty familiar with it.
I didn't notice any problems with it after getting it set (though given the problem I noticed this evening, it's so small I could have missed it). Saturday I had the ring re-sized, and it might sound weird but the prongs looked different to me, as though they were not totally even. Granted I am super, super paranoid, and that could be a total product of my imagination.
Tonight I cleaned it, and noticed what looked like a speck of dirt at the tip of one of the prongs. To my horror, it appears to be a chip right at the end of one of the prongs. I can feel it with my finger nail. At first I was hoping maybe it was part of the prong, but it very much appears to be a chip. I can't take a good picture of it, and have no idea how to approach the jeweler.

I am just sick, and hoping very much that I'm wrong and when I wake up in the morning will find it is still perfect.

What should I do??