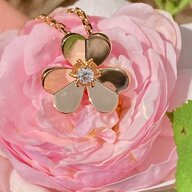 Joined

Mar 6, 2014
Messages

350
Hello! I am sharing my
Whiteflash
by the Yard .80 ctw diamond platinum bracelet.
I wanted a diamond bracelet that I could wear daily with my platinum and white gold wedding set. I felt that a tennis bracelet or diamond bangle worn with my rings and pendant would be too much for me, and that a diamond by the yard style bracelet would provide the low key sparkle I wanted. After pricing out several different options, I narrowed my options to either a 5 x .15 or 8 x .10 platinum bracelet from
Whiteflash
. After receiving wise insight from other PSers on my capsule jewelry wardrobe thread (thanks, ladies!), I decided on the latter.
I also contacted a couple of other vendors, but ultimately
Whiteflash
was the one that could create exactly what I wanted in my budget. Customer service from all vendors was excellent. Turnaround time was about 2.5 weeks including shipping. Since I read every diamond by the yard thread ever posted on PS while deciding on this piece, I am posting my bracelet for future obsessive researchers or any other interested readers.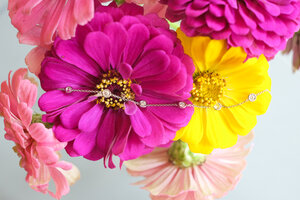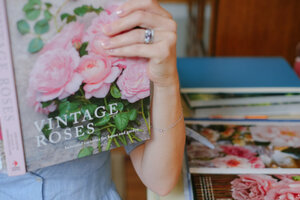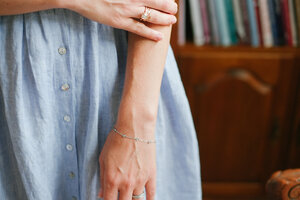 I asked my husband to take some perspective shots, as this was difficult for me to imagine when deciding on sizes. As you can see in the perspective views, there is no appreciable difference compared to the Tiffany DBTY bracelet (shown here with 5 x .08 ).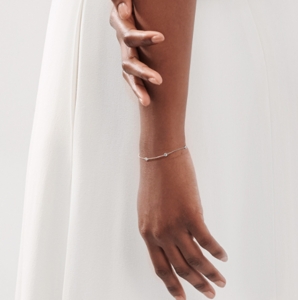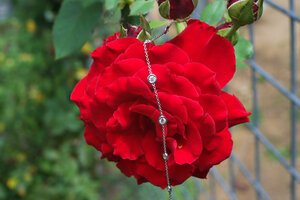 (My ladies had to be part of the action.)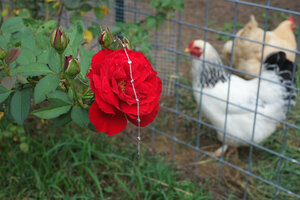 My wrist size is 6.5" and the bracelet is 7".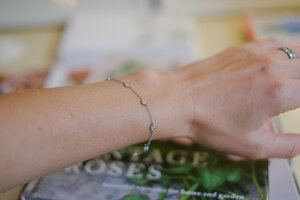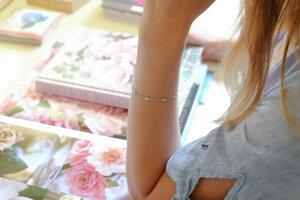 The clasp: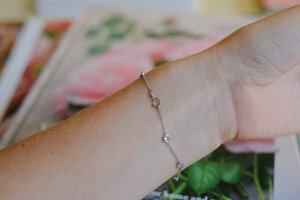 A downside is that this will not work with my watch, since it immediately slips underneath. Perhaps removing a link would solve the problem, as I wear my watch pretty loosely. Most likely I will choose to wear my watch less.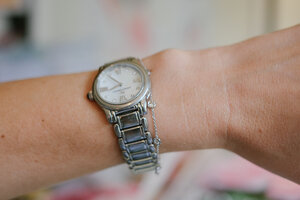 Here is the bracelet with my daily platinum and white gold jewelry. (I also wear rose gold rings on my right hand daily.)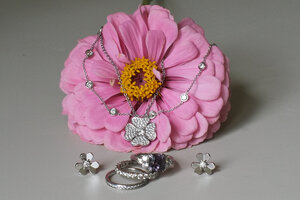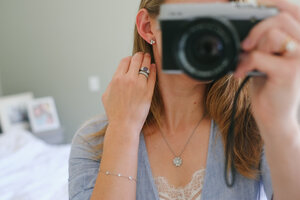 This is a quiet and elegant piece that I think will work well as part of my capsule jewelry wardrobe. I am so happy I decided on many smaller stones, since the overall look I want is more about little sparklies than individual stones. Honestly, if 8 x .15 has been in my budget, I would have done that! And I can see myself sending it back to
Whiteflash
to double the stations several years in the future, if I decide I want more visual impact. For now it feels perfect. I have never worn a bracelet before and I am enjoying the way it softly drapes and slides.
Of course, the stones flip constantly, but as other DBTY owners have attested, they are sparkly on both sides, so no problem. I can feel the culets lightly scratching against my sensitive skin, but I'm noticing it less already, so anticipate that it will not be an issue.
Thanks for taking a peek!
Last edited: