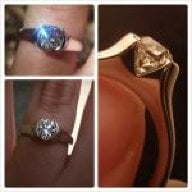 Joined

Oct 2, 2008
Messages

4,946
star sparkle|1333730047|3165032 said:

madelise|1333666750|3164500 said:

and the Cliff House Terrace Room for their champagne brunch

http://www.yelp.com/biz/cliff-house...e-brunch-san-francisco#query:champagne brunch

. Make reservations for their Sunday brunch! There's a harpist! Need I say more? Hah JK. But the endless champagne and mimosas will pay for the $45 tab itself. You know, the super fresh sea food and tri-tip is just extra

Make sure to request a table that's next to the window, so it's overlooking the ocean! AND LET THEM KNOW YOU'RE JUST MARRIED/ ON YOUR HONEYMOON! The restaurant is literally on a cliff over the ocean. It's spectacular.

Heck, next time I'm back in SF, this is my itinerary as well.

I've never done the Cliff House for brunch, that sounds amazing!!! I was engaged previously, and seriously our first venue choice was Cliff House. The view is just breathtaking!
We've added this to our list!