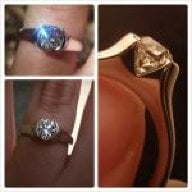 Joined

Oct 2, 2008
Messages

4,946
redsoxgrl|1333553025|3163291 said:

audball|1333376203|3161678 said:

In terms of where, we've bounced around a few ideas. A few years ago I found this bed and breakfast in Tennessee that has an all inclusive elopement package that includes lodging, exclusive stay at the B&B, photography, a mini wedding cake, everything we need. And it's affordable. Unfortunately, the 'indoor' option isn't our favorite as an alternative back up if it were to rain and we're concerned about the heat since it'll be summer. The other bummer is that since the place is small and quaint, the guest rooms are equipped with just full size beds. FF and I share a King now and a Queen can be a squeeze (he's a big guy, 6'3" and not a skinny minnie...) so we're concerned with not being comfortable there. This is the place and the package we wanted.

http://butterflyhollow.com/candlelitexclusive.htm Oh my god, this place is perfectly charming! FULL SIZE BEDS?? I also share a king with my FF and he's not tall at all...a queen was a squeeze with us too. So i can see how with A being so tall, that could make for an uncomfortable few nights sleep. When i have a bad night's sleep, i don't have a good day. So i would be worried this might put a damper on your first few days as newlyweds Seriously! It's soooo gorgeous, quaint, quiet, peaceful, and charming. But full size beds for even one night, would make us pretty uncomfortable and I feel would definitely affect our moods. So we think it's probably out for sure.

So we've been formulating a new plan. The things that were important to us are a beautiful venue, great photos, and comfortable accommodations. Butterfly Hollow had 2 of the three. We had to add indoor to the beautiful venue requirement just to anticipate any weather problems. So, we googled the heck out of elopements and there was one place we just kept going back to. San Francisco City Hall. IT IS GORGEOUS. I also found a photographer that has done a ton of elopement shots there and is very familiar with the venue. I adore her portfolio. We would get to pick a swank hotel in San Francisco with a King bed and a giant tub for 2 and we could use it as a mini moon too and spend a few days in the city (neither of us have ever been to California). So I think we've pinned down the 'where'!Here is the photographer we love. She has a whole page of SF City Hall elopements that will show you the venue too!

http://www.rebeccawilkowski.com/blog/category/city-hall/

OH...MY...GOD! The city hall is STUNNING!!! I checked out the photog link and these photos are absolutely gorgeous! I love the feel inside, it reminds me of walls i would imagine in a castle haha. I think that is an absolutely gorgeous place to get married. I have never been to cali either, but the venue obviously lends itself to not have to worry about the weather or the humidity!!

Thank you! It is like a fairy tale wedding on the cheap! It's just a beautiful venue. Indoors, we wouldn't have to worry about heat or rain and I think the lack of humidity would be lovely! And so much to do in the city!

There are lots of reasons why we want to elope. I'm not close to my parents at all. I don't want my dad to walk me down the aisle and I don't think he'd be understanding/respectful of that.

I agree with this as well...except I'm close to my mom, and not super close to my dad...i've never had that "daddy's girl" feeling, he's always been kinda distant (my parents are married still).

I'm not even close to my Mom. I used to be but lots of things went down and we lost that relationship. I'm actually closer to FF mother now than my own and am more sad that she won't be there! And my sisters, I'll miss them too. But I know they will all understand and be very happy for us.

Both of our parents are divorced and we don't want to deal with that awkwardness. Andrew is incredibly shy and can't picture being in front of so many people without getting really anxious/nervous. Neither of us are drink and dance all night party people so a big evening wedding doesn't feel right to us. Then there's the money and the planning. We don't want to spend that much money to throw a party we don't really want to attend. We plan to have a very casual backyard bbq kind of thing for close friends and family a few months afterwards to share our photos (and maybe video!).

I hate how weddings turn to huge parties too. I like the backyard bbq idea. I might have to borrow that Good way to have low key get together. I'm kinda like A. I don't like lots of people and i get very nervous. I think it would take away from my day because i would be anxious/sick 90% of the time. My FF doesn't like cameras...hes fine in front of people though haha. I'm already dreading all the photoshoots i want starting from the engagement lol! He is self conscious about his smile. He has a space between his front teeth, but i think its character and i love his smile, his bright blue eyes and the way he smiles when he looks at me!

We are definitely more casual people. I would love to cater some really good bbq, get our favorite cupcakes from a gourmet cafe in town, and just relax with our friends/family for the afternoon/evening with good food and be able to share our pictures, etc. That's my idea of a reception. Funny coincidence, Andrew also has a small gap between his front teeth. I think it's cute. He doesn't seem bothered by it though. I could have written that sentence myself!

I have a few dresses in mind and am torn between going short or long. Either way it'll be not poofy so it'll be easy to move around in. I do want a bouquet. I'm thinking white cala lillies (about 7) in a simple arrangement. On the photographer link above, go to page 3 and look at "Jennifer + Ted" who are the third down. I want her bouquet! We're thinking FF in a gray suit with a bright sunny yellow shirt (no tie) and a matching white cala lily bout. And fun grey and yellow argyle socks! We thought it would also be cute if we got some cupcakes from a local bakery and in some of the after ceremony pictures, we could feed them to each other somewhere in the building. And maybe have a short first dance (we could have our song on one of our phones) for some other cute pictures.

I love cala lillies! SO simple, yet classic. I think in the city hall they would look perfect! Love the little details like the socks. I recently noticed that in someone's wedding pics (Facebook world) they took a picture showing his socks and they were so unexpected and added such a cool touch to the photos! As for the cupcakes, i love that idea too! I also love the first dance idea. I also am doing something similar, as i want that aspect of the big wedding...i want to have "our song" and hear it and be brought to the day. I never thought of the phone idea though!!

Going back to the socks...i want hot pink crinoline under my dress...same idea as the pop of color with the socks. I was trying to find a good pic, but heres an idea after a quick google search...someone's post on another forum haha http://gallery.weddingbee.com/photo/my-pink-crinoline-2. Maybe if you end up with the long dress, you can get the same below as SO? What a cute picture, you holding up your dress and him showing off his socks!!!

Thanks!! We're pretty excited about putting our own little touches on it from the ones we saw in the photographer's blog.

And yes! That would be an adorable picture! Thanks for the idea, another for my folder! If nothing else, I'd probably definitely get colored shoes to match so we could still do something really cute! We also want to get some little signs made like Mr. and Mrs., Bride and Groom, I and Do, to have for some photos. We could use them for some wedding announcements/invitations to our after elopement reception.