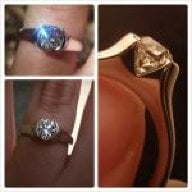 Joined

Oct 2, 2008
Messages

4,946
I know this has also been done in the past, but there are so many new LsIW...I want to hear all about your (soon to be official!) plans!
Give me the IDEAL details of your dream day
WHO will attend? Big party, low key, elope alone?
WHAT will your theme be? Will you even have one?
WHEN is your ideal time of year to get married? It's all about seasons, weather!
WHERE do you dream of tying the knot? A certain city, a particular venue?
WHY do you think this is your ideal situation? Is there a reason you want the big wedding or want to run away alone?
HOW do you plan to pull it off, plan, and pay for it?! How much time to plan, save, etc?
Feel free to share any and all details you've got spinning around in your head. Dresses, flowers, colors, venues, themes, etc...