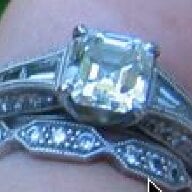 Joined

Jul 27, 2005
Messages

11,534
Just a quick post to thank everyone who sent their condolences re: my sweet kitty Gracie''s passing on Tues. I very much appreciate your kindness & support & every single word & wish helped. Thank you!
I''d meant to come back & thank everyone individually etc but haven''t felt up to posting etc. HOWEVER, I didn''t want to leave anyone hanging re: the rabies outcome. The test was negative. THANK GOODNESS. That is a big relief. But it also brings up more questions. There were no obvious causes of death shown in her autopsy. She was a "perfectly healthy" cat. I''m worrying a lot about if I somehow caused it ... let her get into something toxic. The unknown. Worry for my other pets. We''re having some more analysis done -- but not doing the outrageous full tox screen. (1K!!!) The vet did say that maybe she "threw a clot" or had a stroke or just unexplained cardiac arrest. Whatever it was, it was f-a-s-t, so it *seems* she didn''t suffer at the end. And I know I gave her the best life I could for nine wonderful years. Her sister Clem is spending a lot of time sitting by the place it happened, as if she''ll find her there. They were constant companions for their whole lives. (Albeit sometimes warring companions). Since Gracie''s passing we''ve been keeping Clem in our room with us & T every night, so she''s not alone. (The boy cats are DH''s & she doesn''t like them too much -- though one is quite sweet on her.)
One more little piece of grace for Gracie. Just twenty minutes before her death, T had been doing something particularly cute on the sofa & I went searching for my camera for the first time since Xmas. By the time I got back, T had moved on ... but I noticed Gracie all curled up in the cat bed on the sofa next to me, where she''d spent most of the afternoon. So I took a half-dozen shots of her. As I took them I noticed that her fur seemed so very white ... whiter than it normally seemed in pictures. She was glowing. I chalked it up to the flash, the backlight, whatever & was happy to have some nice shots. Little did I know what was going to happen less than a half-hour later. I find that kind of unbelievable.
I haven''t been able to go back and look at most of the pictures yet ... too painful. But this is the one my DH uploaded for our families. Rest in peace Gracinator, our warrior princess. We''ll miss you always.