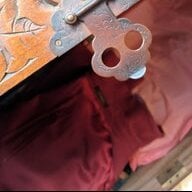 Joined

Oct 8, 2011
Messages

662
Hi all,

Have not been here for v long time. Hope everyone is well.

Have 2 x 20pts oval that I intend to make into a dbty bracelet but jeweler warns about culet poking skin.

Do you think it would cause any problem?

Would wearing them in bracelet risk chipping the tip?

Would you make the bracelet with 3 or 5 stones given the current 2 are 20pts each?

Any input and suggestion is appreciated. Thank you!