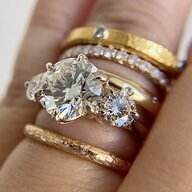 Joined

Jul 25, 2018
Messages

380
I've figured it out. I change dresses just about every year.
This same time last year I had my 3 stones set into the
WF
Butterflies setting (and enjoyed it all year long in quarantine).
In quarantine, I kept thinking:
I love it; it's just not 'me.'
It's feminine and well - like a butterfly. Which, I am not. I'm more casual. Cool, sometimes. Clumsy. 49% outdoorsy. Casual, all of the times. A dog-mom who likes the finer things in life, too. The shank was also too thin for my lifestyle. I have a Louis Vuitton gold ring that has a chunky round shank that I wanted my 3-stone to sit on.
I wanted a round chunky band, full cups, and prongs to sort of travel along the cups. The prongs traveling along the cups would be the design element of the setting.

It is everything I dreamed it would be. Sturdy. Chunky. ME.
I miss seeing the gallery of the diamond slightly but not as much as I thought I'd miss it. DK painted the inside of the cups with white gold to help with the I-color of the diamond. TBH, I think it would have been fine unpainted.
Hear me now: I am going to hang onto this one for more than a year.
David Klass is my go-to. He has done a few projects for me and my mom. I find him and Amy easy to work with, has very reasonable pricing and has good communication. He gives suggestions on style/usability when warranted and understands design. Sometimes the emails back and forth feel like forever in between but I know I'm just being impatient.
Question:
(and try not to let my immense amore for my new ring affect your answer here) how much or how little would it bother you that the AGS laser inscription is covered? Like, totally covered by one of the 4 prongs on the big diamond. It is visible on the two smaller side stones but NOT AT ALL visible on the big stone. I just like to see the inscription as an identifier that the diamond is indeed mine. I also feel weird about it being totally covered by a prong - how long are inscriptions? Is it really possible that the prong covered the whole dang inscription?
I asked DK about this, he said I could send it back and he would rotate it. But he keeps saying the facets will then not "line up." I don't believe this is true - since technically there are 8 facets of the star pattern to line the prongs up with. If he rotated it 1/8, the prongs would line up with a different set of facets. Am I correct in this thinking? Do I have it all wrong? I don't want to send it back just yet (maybe not ever if I can live with it). I just got it back in possession today (I'm sure many here will resonate with this.)
Diamond deets:
2.58 I VVS2
WF
ACA
center
.40 I VS1 side
.41 I VS2 side
Thank you for letting me share and I hope you and your gems are doing well in 2021!
Last edited: