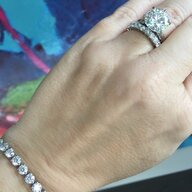 Joined

Jun 19, 2015
Messages

193
This stunning pendant started out as a ring I bought about 10 years ago. It's a 4 ct Colombian emerald that was set in a white gold setting with diamonds. Sadly I just didn't wear it. If I'm not wearing a piece, I feel that I need to sell it or have it remade into something else. I don't like my beautiful jewelry pieces sitting in my safe.
I reached out to Caysie well over a year ago to try and figure out what to do. We shared so many ideas back and forth. Rings and pendants. I finally decided on this pendant. Once we had the idea, I knew this was it! I could see it in my head and couldn't wait to see it in person.
Wow oh wow! It didn't disappoint! Of all my jewelry projects
this might have taken my breath away the most...with the exception of my 5 ct
ACA
(I still stare at it in awe of the sparkle.)
it's huge. Just smaller than a quarter. I'll take some more photos soon. I still need to buy a chain for it. I think I will buy a short and long chain. It will need to be hefty because this pendant is HEAVY!
And can we have a moment for all the beautiful engraving! Swoon! Thank you Caysie