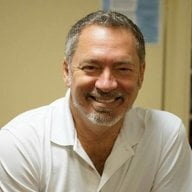 Joined

Mar 28, 2001
Messages

6,239
Date:

12/22/2006 3:04:47 AM

Author:

adamasgem

Date: 12/21/2006 8:16:33 PM
Author: Rhino
Interestingly this file is generated from the same scan except as observed via OGI''s Web Viewer software. Each upper half facet is resolved and each upper half angle can easily be read by simply clicking on the facet. To my knowledge these software changes will be reflected in the update that''s on its way.

Marty, look at the meet point faceting as well.

The OGI generates .stl files also and when I attempted an import into DiamCalc, for some reason it wouldn''t let me import the file. I was able to open the .stl file with a program Pete had turned me onto called ''Solid View'' and the model appeared as it does in the first graphic I posted above.

When I saw the model here generated by the OGI and if this is reflected in the new updates coming down the pike, I thought this was an excellent improvement and I look forward to getting their updated scanner/software on this.

Sarin next...

Would you email me the stl file..
Check your mail Marty.

Serg ... I''m noting that the DiamCalc isn''t importing certain .stl files. I note in the software that it can export binary and ascii .stl files. Is DC only able to import certain types of .stl''s? The .stl''s generated from OGI aren''t able to import to DC. For some reason my emails to you are getting kicked back. Did you change your email? If so, please send me new one.
Regards,