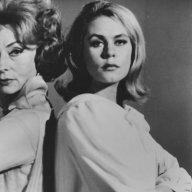 Joined

Aug 14, 2013
Messages

199
Hi all, I am seeking advice on a .77 carat halo pendant necklace project I've been working on for a while that I've just received and I'm a little concerned about. Below is a walk through of the process, stone, setting, and final product, which I'd like feedback on.
Background --- Unlike most projects where I directly steer the process with the jeweler, I let a friend who works in the jewelry business (on the fashion / design side) handle it for me with her jeweler and I had minimal involvement throughout. This was great because something that I have been talking and researching and wanting to do for over 6-9 months now happened rather quickly, from diamond sourcing to setting etc (and FWIW she got me an incredible deal at wholesale pricing and is taking no commission / profit on it, just did it as a favor). The downside, though, is that I haven't had much control over it and now am trying to figure out how to fix the flipping issue before bringing it to her (I want to have solutions in mind first).

The diamond is on the left: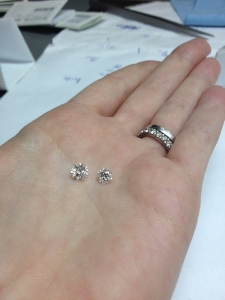 GIA cert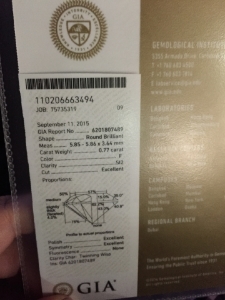 Wanting to keep the budget down but still wanting the impact of a larger diamond, I started hunting for flush-set halo pendants, that give more impact than simple bezels. I was originally inspired by
this necklace on LoupeTroop from Snow White
.
Here's the diamond in its setting, it's actually an earring jacket.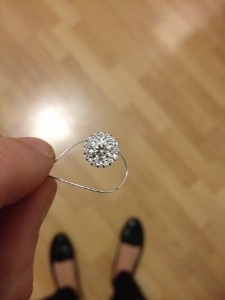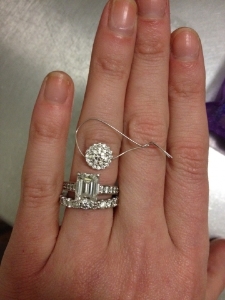 the back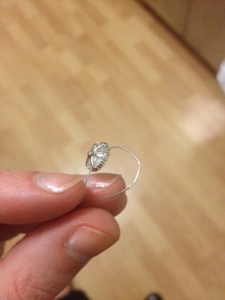 The main issue is that it flips a lot while on. I'm not sure if chain length is really a factor, it's more the fact that its flat on the front (I wanted it flush set and not raised up but I think the shape is making it flip a lot? Or maybe the way it's strung? I originally wanted it to move on the chain but now wonder if having the chain fixed would cure it a bit? I think I want to make the chain longer either way.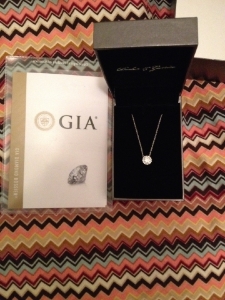 here it is on me: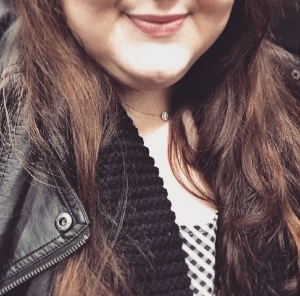 Thanks in advance for any thoughts here!
PS–-- Shout out to my PriceScope fairy godmother Niel who was very helpful in discussing this project a while back on Pinterest. Dying for your thoughts on the update here!