Hello all -
I'm planning on proposing to my girlfriend soon and am going through the process of designing a custom setting through
WhiteFlash
. As diamonds and engagement rings are all rather new to me, I'm new to this forum as well.
WhiteFlash
has provided CAD images for the custom setting I've discussed with them. I have a couple thoughts on what I might change before finalizing, but am hoping to get unbiased opinions from the folks here that have much more experience reviewing CADs and jewelry in general.
As for some background, my girlfriend has 2 main criteria for an engagement ring, or any other jewelry for that matter: (1) preference toward a modern/contemporary design and (2) minimize prongs and angles that might catch on latex gloves (doctor friendly setting).
From past conversations, I know she loves this ring:
https://www.catbirdnyc.com/wedding-engagement/engagement-rings/teardrop-diamond-ring.html
She is more drawn to the simplicity (and price point) than the pear/teardrop shape of the diamond. I wanted to incorporate a traditional round cut diamond into a design. To stay doctor friendly, her setting needs to have a full bezel, and I was concerned about light performance with non-round diamonds. I found this example ring that combines both concepts (and had a couple of her best friends verify that she would like the design):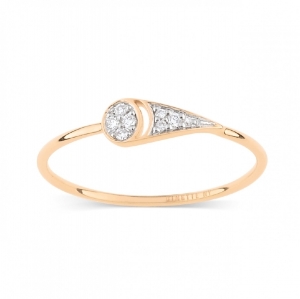 I asked
WhiteFlash
to make it platinum, modernize the band, replace the round cluster with a center diamond, and that we'd make any other adjustments from there. Here's what
WhiteFlash
came back with: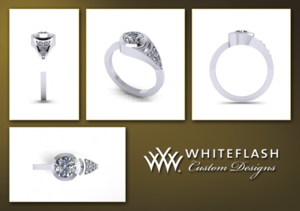 Again, I have a couple small changes in mind, but wanted to solicit feedback from a group much more educated on jewelry and custom designing than I am. Any and all comments are welcome. In particular, is there anything in the CAD that I should worry about translating to a final product? Are there any tweaks that should be made to maximize comfort of wearing the ring? Any faux pas in the design?
Thanks in advance!