Joined

Feb 18, 2015
Messages

107
I've browsed this forum off and on for quite awhile and finally have a starting-from-scratch project to share. I've wanted to do a ring featuring birthstones for my 2 kids, but as they're basically adults now I didn't want anything that was too kitschy or obviously a mother's ring. I also didn't want the traditional birthstones for either of them. It took me nearly a year of browsing around and considering options before I fell in love with a heart-shaped demantoid garnet from Madagascar from Kosnar gems on etsy. I hadn't really considered hearts before seeing this stone, but once I did I liked the symbolism. And demantoid was the perfect fit for my outdoor-loving green-eyed January child. Then I asked Brett if he'd consider cutting another stone to go with the demantoid, which he agreed to do. He found some beautiful golden-apricot imperial topaz from Brazil for my golden-eyed November film student.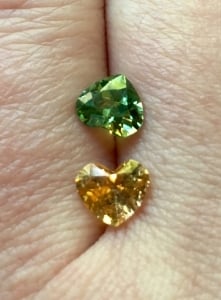 Took me awhile to choose a design inspiration, but settled on a bypass ring (nothing intertwined, since it's the birthstones for my kids, not for a couple!) sort of like this.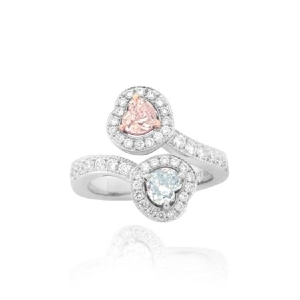 Some changes -- we're doing it in 2 colors of gold, literally changing at the halfway point of the band. I would never have thought of doing that, I'd been dithering about whether to try and have the prongs/basket of both stones in a different color, but then what color would suit both, etc etc... and the jeweler immediately suggested the split. The more I thought about it, the more I liked it! The topaz will be set in rose gold and the garnet in white. Keeping the millegrain and adding hand engraving around the basket and band. I love antique jewelry, and want something that will fit in.
The wax should be ready for approval in 1-2 weeks, can't wait!