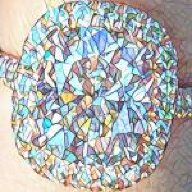 Joined

Sep 25, 2016
Messages

40
Hello everyone! I have so many pictures and no one in "real life" to appreciate the obsession!
I originally began the search for a light champagne colored diamond, not very dark brown, but very light closer to the color of real champagne or ginger ale. For weeks I waffled over a W-X light brown oval. Ultimately I let my hubby make the choice and he picked this cushion because he liked the more square shape and he didn't really like the idea of a more brown diamond like the oval. The oval actually came out more beautiful than I could have imagined! Mark Broumand made the custom setting for it and posted it on his Instagram.
https://www.instagram.com/p/BMHswWCjQw9/
I saw the video clip prior to receiving my ring and I must admit I had a whole day of regret for not choosing the oval. The color is very rosy and simply beautiful!
But I finally picked up my cushion and I really do love it! It's currently set in a rose gold halo with low colored melee. I consider this a temp setting meanwhile I figure out if I love rose gold long term or maybe a different style. I'm thinking light pink melee...
This is my first cushion, I normally wear an ideal cut mrb or occasionally a very flashy little asscher.
Coming from the mrb, it was a bit of an adjustment getting to know the cushion. It doesn't have that edge-to-edge bright-in-any-light, mini headlight performance that I was used to. But now that I've gotten to see more of the cushion's personality, I love it even more! It's not the color I thought I wanted, it's much too light, almost no one in real life notices the tint. (In fact I still want a w-x light brown or maybe light yellow.) It does have beautiful fire and rainbow flashes, much much more than my round, and in some lightings the facets look... not even real! I notice so much more dispersion with my cushion though of course less brightness than the mrb. I don't want to say it is more sparkly than my round, but it is larger and the sparkles are larger, very different look.
Whereas my round is white in almost all environments, my cushion is much more influenced by its surroundings. Mostly it's an ivory color, sometimes very bright, sometimes more ginger ale, and in very bright spotlights, a dark prismatic brown. And the best part...the blue fluorescence and orangey-yellow phosphorescence!
3.70ct N very light brown si1