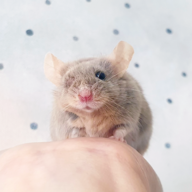 Joined

Oct 23, 2019
Messages

67
I know that "cup" settings are used sometimes for colored diamonds, e.g. a yellow gold cup for yellow diamond or rose gold for pink/peach diamond. I have a silvery grey/blue pear sapphire that I've put off setting for a while. I would say it was cut quite close to the critical angle so there is no window straight on, but the slightest tilt in any direction and one appears (and it genuinely bothers me).
I've tried wrapping the pavilion in aluminium foil to get an idea of what a cup might look like and I think it improves the look significantly. Plus, since the sapphire is grey, the metal showing through blends in well with the color of the stone.
If you have a cup setting, full or partial, I'd love to see the design so I can get some inspiration for my jeweller.
And yes, I'm aware that cups make cleaning a lot more complicated. But I'd rather have something difficult to clean that I wear once in a while if it means the sapphire doesn't spend its life in a box, unset and unloved.