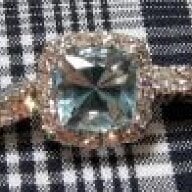 Joined

Jun 21, 2009
Messages

2,463
DiaGem said:

Yes..., I know you cant see an open culet which is

one

of the signs of old cutting techniques (& 1 of 3 [out of 4] criteria needed

if large enough to earn

the GIA OM

B

identification) but not enough I believe to confidently dismiss from afar. Even if my opinion was the same as yours on the stone at subject, I still wouldnt voice my opinion if not asked for. And if I was..., I would voice it as a hypothesis not as a clear fact.

GIA needs 3 criteria (they must work according to a system)..., I believe there are a few more signs (I dont call them criteria).
Some points of clarification:
In doing research for my recently published article
https://www.pricescope.com/communit...-conventions-for-cushion-cut-diamonds.147789/
I was given insight into how GIA approaches traditional naming.
Quoting from my text:
1)
Despite its use by the trade, GIA has not used the term Old Mine Cut or Old Mine Cushion on grading reports in at least twenty years if ever(my sources can't speak for times before they worked at GIA). An Old Mine Cut is a term applied properly to an early form of brilliant cut which was most common in the 18th century with nearly square or cushion shaped girdle outline.
2)
Old Mine Brilliant - A traditional term used to describe an early form of the 58-facet Brilliant Cut with a nearly square or cushion shape girdle outline, a high crown, a small table, deep pavilion, and a large culet. These are a distinct style from the modern proportion sets seen today of the same 58-facet arrangement Cushion Brilliant.
The key points here are:
1) Old Mine Cut is something quite different than what I see here, and much closer to the natural shape of the rough.
2) Old Mine Brilliant represents a
style
of cutting and does not differentiate nor indicate the actual age of a stone. Just because a diamond satisfies 3 of the 4 criteria to earn this naming description does not make it an antique.
There is a lot more detail in the article which explains in my mind how logical and consistant the GIA naming conventions are now(post November 2009) but I'll leave that up to the reader to decide.