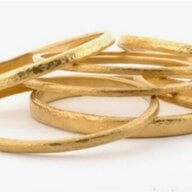 Joined

Jan 26, 2003
Messages

22,129
I am not sure whether the Orthodox Cross made by Links of London was ever mentioned in this thread. (I may go back and check when I have time.) I know that I first saw it when Sharon and I were discussing Links of London on Pricescope and I looked at some of the items they were selling at the time. They called it "the Czar & Czarina Cross", but it is really just an artistically designed Orthodox or St. Andrew's Cross.
They have not carried it for years, but I kept the image. I thought that maybe someday I would have one made if I ever had the money. I never took the plunge and bought a traditional cross. I think I felt funny wearing one just as a fashion statement and couldn't quite get comfortable wearing one as a religious symbol. The orthodox cross reflects my heritage and feels more comfortable to me.
I worked on the photo of the cross today so that I could post it in this thread, but I am not sure that it will print big enough to be seen!
Deb/AGBF