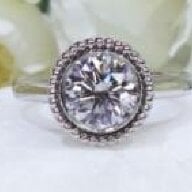 Joined

Dec 18, 2011
Messages

77
I posted last weekend about how I was looking for a new setting for my engagement ring as a 10th anniversary gift. I received lots of generous help and advice from PSers, and after a lot of thought/obsessing I decided on my new setting, this
James Allen
bezel with pave on the crown. I just love it!
http://www.jamesallen.com/engagement-rings/tension/platinum-pave-crown-bezel-engagment-ring-item-53684
I discussed the top contenders with my sister (not a diamond person, but very stylish) and she loved this one too, but after we had decided she asked "what's wrong with your current setting?" I explained to her a couple of things about it that have always bothered me (husband picked it out by himself, bless his heart). Then she said, "well, it's such a sparkly stone, just don't do anything to it that would change that." And she's right, it is a very sparkly stone. I'm sure the cut experts here might disagree, but I had a pair of
WF
ACA
studs and still thought my engagement diamond was more lively. Perhaps it's a matter of personal taste? But her comment had me thinking, so I've been walking around all day like a crazy person with a masking tape "bezel" trying to see the difference. It's definitely not as pretty with the masking tape, but maybe it's a crazy experiment! So my question is whether or not I'm going to lose what I love about this stone if I reset, especially in a bezel. Is there anything about the cut that would make this stone a good or bad candidate for a bezel setting?
Here are the stats:
EGL cert (I know, I know. But it really is gorgeous.)
1.22 F VS2
6.87-6.82 x 4.23
Depth 61.8%
Table 60%
Crown height 14%
Pavilion depth 43%
Girdle medium, faceted
Culet none
Fluorescence none
Polish very good
Symmetry very good
It seems like a lot of people say their stone looks larger and more sparkly in a bezel, so maybe I just have cold feet on the reset? I'd be grateful for any opinions. After 10 years, I'd like to get a setting I really love. But maybe my current setting shows off the stone in its best light? If that's the case, maybe I could modify the current setting in some way. I'll post photos. I'd love opinions!