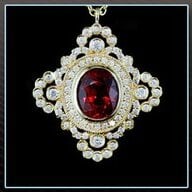 Joined

May 29, 2008
Messages

133
Hi there,
After my mom passed away over 3 years ago, one of my sisters received her diamond engagement ring - it is a very sparkly approximately .75 carat round solitaire (I'm guessing at the size, but that should be about right...)
I was thinking that she should convert it to a pendant so it sees the light of day and doesn't just languish in her jewelry box. I have not mentioned this to her, yet, as I know she will worry about "tampering" with it - it is about 43 years old now. It is so lovely, though, and she does not wear it on her finger.... and I think it could be her "go to" pendant!
Can anyone here offer words of wisdom - like, for example, it is in a very unique swoopy (for lack of a better word) setting - she could preserve that, right, and just have the round ring part "cut off" (or whatever the jeweler will do)?
Also, can this work be done while she waits? I know she would not want the ring to leave her sight...
Thanks for any input!
She actually lives in Houston, so if people here think this might be a good idea, I will ask
Whiteflash
if they do that kind of work. Seems like I read somewhere they only work with their own jewelry, so if that is the case, can anyone here recommend a good jeweler in Houston who could do this type of work? If not, I live in NYC, so she could bring it here next time she visits and have the work done close to me, if there is someone everyone loves on 47th St!
All ideas and comments welcomed.
Thanks very much!