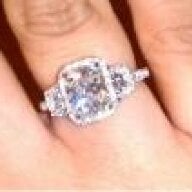 Joined

Feb 7, 2011
Messages

244
Ever have buyer's remorse? I do and I'm unsure of what to do. I need your ideas.
I bought a lovely necklace and pendant. I was happy at the time but I'm not really a necklace/pendant type of gal. I bought it thinking "SURELY I'll need it at least a couple of times a year." Anyway, long story short, I know I'll never wear it. I've had it for three months and still my heart doesn't skip a beat when I see it (never even left the box since coming home with me
).
I spoke to my jeweler and he said he would take it back and give me full credit. So in essence I have around $2300 to spend with him. I have a couple of options.
1) Buy some small diamond studs.
2) Buy a lovely diamond/sapphire earring (of some kind). He has a great selection.
But the third option is what I need help with. I have a beautiful ring that I love (see pic below). It's a diamond and white sapphire ring. What I want to do is:
3a) Possibly replace the white sapphire to small diamonds (excellent cut, vs2, G color)
3b) Change them out to yellow (bright yellow)
3c) Change them out to blue sapphires (true blue ceylon variety).
What would you guys do if you were in my place? Keep in mind, I have to do everything through my jeweler and not any of the other vendors on PS.