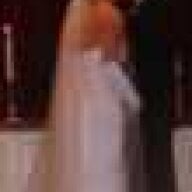 Joined

Jun 23, 2004
Messages

281
Hello. I recently posted my new setting for my ering in the show me the ring forum. Just a liitle bit of history before I ask for your advice... you have all be so helpful in the last few years so this is where I turn when in doubt about my ring. Well here is the deal. I reset my ering from this setting..
http://www.affinitydiamonds.com/R-937-R2483-2.htm
To this setting...
http://www.affinitydiamonds.com/R-1004-R2744-2.htm
I have been very pleased with
Adiamor
, formerly Affinity diamonds. They have been very accomodating with every aspect of the original purchase to this one. I wanted a thicker, chunkier, more simple setting to show off my center stone, 1.20 radiant, G, Si1 and my channell set wedding band. For some reason, my original ering was to dainty for me and I had to wear two wedding bands to achieve the thickness that I wanted and my center stone got lost in all the diamonds. I am much more pleased wit the look of my center stone in the new setting, as it pops much more and seems much more sparkly and not as small as I thought it would in that thick setting, my stone measures out to about a 1.12, instead a 1.20. Anyway, I love the setting, however, in my anal exam of the ring, in the last few days, I only recieved it on Tuesday, I noticed that one of the sides of the ring is slightly lopsided. Where the catherdral part comes up and meets the prongs, it seems that one if them is slightly lower than the other side. I tried to take a pic to show but my camera does not work that well close up. From the top view, you cannot tell and from one side of the ring you can''t tell either, but when you flip it around you can tell. My hubby thinks I am insane and I should just be happy instead of sending it back. He thinks it is barely noticable unless you stare at it, but he admits he can see it as well. He thinks that no one will ever notice as it is such a small mistake and that no one will ever notice unless I take my ring of and they inspect it. My question is, should I return it and demand a new one? Or should I stop being an anal woman and just accept it as it is a small barely noticable flaw? Any advice would be great and sorry for the novel..........