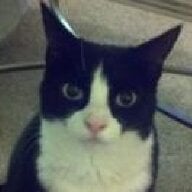 Joined

Aug 8, 2005
Messages

40,225
Okay so... I tried to make this short, but as you can see I failed. Sorry.

When John was looking for engagement rings his widowed mom offered us her engagement ring.

It has a round "spray cut' 1.0-1.25 (don't recall which) D color clear as a bell (VVS was the last appraiser's opinion--in the 1960's) gorgeous center. I had no idea what a spray cut was (still don't know exactly, have never found reference to the term)... but now I suspect it is a transitional cut of some sort. I DO know it's one of the most beautiful diamonds I've ever seen. It's from the late 1950's.

The platinum setting had four heart prongs and made the stone look square (which is what I wanted), and I started researching reproduction settings to get one made like hers (which was worn to the bone) for the stone. John tentatively accepted the offer with great thanks from both of us.

And then I saw her one day, looking down at her ring with such... sadness. And I realized that she was just being a good mom, but she really wasn't ready to part with her ring. She's never gotten over her husband's death.

So we just couldn't do it. We told her I REALLY wanted a square stone, and thanked her again.

Then... after a series of life changes that forced my MIL to move on (after 20 years) more than she ever had before 2 years ago... she was ready to part with her ring. And so she gave it to one of her daughters.

And... it's been sitting in a safe since. My SIL has no idea what she has, DISLIKES the fact that it's not a round brilliant ("funny looking") and the platinum setting (she likes yellow gold) and has set the ring aside for one of her daughters (whom I love). And my MIL is SO sad that she gave the ring to her daughter for it to sit in a safe.

She asked me a little while ago why I didn't take her ring, and I told her honestly... "You weren't ready to give it up, and I couldn't take it from you." And she told me that she wished I had, because she knows I'd be wearing it, and appreciating it. But I know she'd NEVER ask her daughter for it back.

And every so often I'm like... ARGH! I want that ring/ diamond. (I would have the setting remade in exact replica by Van Craynest if they would do it, or Singlestone if they won't).

So... I'm plotting and planning to buy it from SIL in a few years. Is that wrong? I just feel that it should be MINE. I wouldn't let it leave the family. I'd leave it to one of John's neices or his nephew. But I just want it to be mine so I can take care of it and love it. And SIL is very... how do I say this, monetarily motivated and would probably jump on fair market value for the ring and she wouldn't care about the fact that her daughter's might want it. She's just like that.

I feel so guilty when I feel this way. But... I can't help it. It's so pretty and it's got such positive history. It deserves to be worn, and it irritates the crud out of me that it's in a safe and under appreciated.

Would it be wrong of me to offer to buy it (I'd ask MIL for her permission first, but I think she'd give it)?