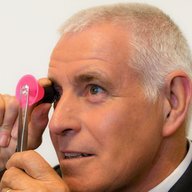 Joined

Aug 15, 2000
Messages

18,327
Steve I finally found the article.
Because it was in the issue about pink diamonds one of my staff snaffled the copy!!!
I feel sad about the politicss of politeness of the GIA.
They published a letter referring to GIA's research into diamond cut quality from a noted gentleman from the industry who is related to Tolkowsky. The letter referrs to the fisheye effect.
Fisheye effects are ugly, but seeing the girdle of a diamond has little if anything to do with fire or brilliance.
Of far more importance is the thickness and surface of the girdle as a variable in this case.
Given that there has been much criticism of substance written about these GIA studies, it seems sad that nothing of substance has been published by the GIA. (The only other letter they have published was also (in my opinion) a minor issue that was easily (although poorly) dispelled.
I am disappointed that this 'Cone of beauty' could be considered a study related to diamond validity of the GIA's study of diamond proportions and optical performance, especially since 65% tables scored badly in both published articles, Brilliance (199
and Fire (2001).