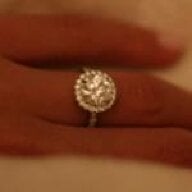 Joined

Mar 12, 2009
Messages

785
Hi everyone,
i'd like to seek your honest opinion as to whether or not i should consider a re-do for my halo (just the head part) possibly in the near future...
don't get me wrong, i absolutely love my ring, Steven's work is just amazing and there is no complaint whatsoever about his craftsmanship.
for those who have followed my SK ring journey already know that the halo of my ring has a "scallop" knife edge. the ring is absolutely perfect and i cannot ask for anything more. however, over the past 2 months of wearing the ring every day, i have realized that the knife edge is quite prone to "damage" when i accidentally knock it onto surfaces once in a blue moon. i find that a couple of dents already happening due to so little metal surface area at the scallop edge, causing those scallops to flatten a little. currently, these dents are only causing minor cosmetic flaws under the loupe, however i'm not sure how much this will impact the durability of the pave on the halow... below are the photos of my ring when it was completely brand new. as you imagine the scallop knife edge can be easily get knocked out of shape: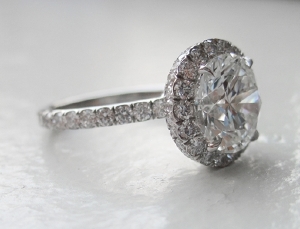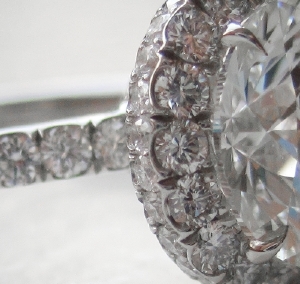 for the sake of overall longevity and durability of the halo, i'm considering to have the head part re-done in the style of the below photo (only look at the side / profile of the halo) showing little amount of metal on the edge of the halo but more substantial to take every day wear / occasional impact, this version will have no pave around the side of the halo :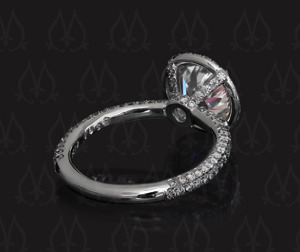 in addition, i am considering to have the claw prongs to be a smidge more substantial.
what do you all think? should i wear thing ring until there are enough "dents" before taking in for a re-do, or would you think i should just go ahead and do this as soon as possible?