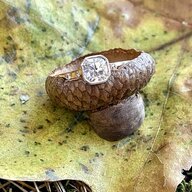 Joined

Sep 6, 2008
Messages

90
I'm in the process of creating a new ring set - my original engagement ring and wedding band fit most of the year, but I haven't been able to wear them the last few summers. When I found the only other setting I've dreamed of on EBay for a good price in a larger ring size, I thought the time may be right to finally buy it and have rings to wear in the summer (since I didn't really want to resize my original rings).
However, this wasn't really planned and we're building a house, so I have to keep it pretty affordable. I thought I would do moissanite, but I didn't love it when I ordered one. I was pretty excited to see how lab diamonds had become more affordable in the last few years (I was interested in them when I got engaged in 2002, but there was definitely no price savings over mined at that time!).
Using Rare Carat search, I noticed that Dimend Scaasi had some pretty good prices. I jumped on one, although I was aware it wasn't the best cut. After it came, I was second guessing myself on the cut, and I noticed one that came up on Rare Carat that had better numbers and looked good in the video. Their customer service is great.
I had never had a chance to compare diamonds where literally the main difference is cut, and it was very interesting!
I needed to stay close to 6mm, since that's the size the setting takes. The two stones are:
.86 E SI1 $892 (on the top)
IGI Cert
6.22x6.26x3.63
Table 63%
Depth 58.3%
Crown 33%
Pavilion 41%
HCA 2.1
.79 E VVS2 $810 (on the bottom)
GCAL Cert
5.91 x 5.94 x 3.64
Table 57%
Depth 61.4%
Crown 35.5%
Pavilion 40.6%
HCA 1.2
Also - the band is a14k
1/2 carat lab diamond band from New World Diamonds (F-G, VS-SI). I paid $314 and I'm really happy with it.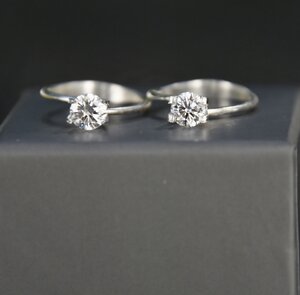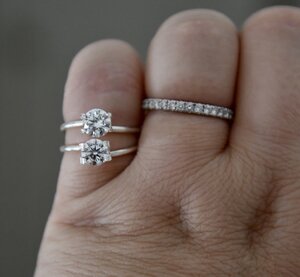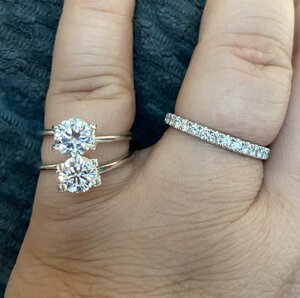 3 videos in shade, full sun, and inside:
Last edited: