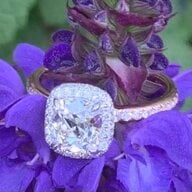 Joined

Nov 24, 2006
Messages

133
Hello everyone! I''ve been lurking around this site for a while and thought I would say hello. I wish I had found you before we got my engagement ring last year, but I think I might have done an okay job anyway (my husband proposed without a ring and I got to pick it out).
Here are some pics, and some specs since I''ve learned enough to realize that you like those

GIA Report
Round Brilliant
Measurements: 6.49 -6.53 X 4.02
Carat: 1.04 (cool because my birthday is jan. 04)
Color: G (although it looks a little darker from the bottom and a little lighter from the top)
Clarity: VS2
Depth: 61.8
Table: 56
Girdle: Medium, Faceted
Polish: Ex
Symmetry: Ex
Fluor: None
Crown Angle: 34.5
Crown Height: 15
Pavilion Angle: 41
Pavilion Depth: 43
Star length: 55
Lower half: 75
Cut grade: Ex
Here are some shots:
The stone has a lifetime offer of getting credit for an upgrade... we paid $7000. Would love to hear your honest opinions!!!