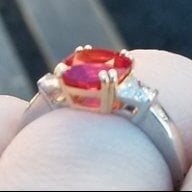 Joined

Nov 3, 2009
Messages

7,589
Nothing special, I am in a bad mood, still feel bad over the loss of the stone, lost hope to find it and mourn the loss. I did not even have the time to get used to the stone; I bought it and went away. Maybe it is for the better...
So these pictures are nothing special, just sitting at the office, playing with smaller stones. Trying different combinations. Here what I have made photos of...
These are Mahenges bought at different times from Tan. Small, around 1 ct, but some of them are pretty... These are not my large stones, I shall try to take photos tomorrow and post them...