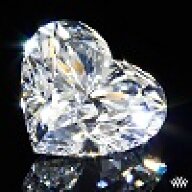 Joined

Jun 28, 2011
Messages

84
I've been obsessed with finding a wedding ring to go with my antique amethyst and diamond e-ring for a few months now. Here's the ring:
The ring is platinum, but we can't afford that for the bands most likely...we're a relatively young couple and the e-ring was already a little bit of a stretch on our budget. We're saving up for a house, so as much as I love jewelry I've self-imposed a budget of 700 MAX for my wedding band. I thought about going with a simple antique or antique-style filigree band, and that's still an option, but I've been eyeing a couple of fancy blue diamond wedding bands from belljewels which are surprisingly affordable. I am obsessed with blue diamonds and would love to own some! I'm not sure if they'd be too much with the amethyst, though. I don't think so personally, as I'm not a girl who shies away from color.
I also played around on Gemvara (OK, for hours!) and I liked a few combos I came up with there, especially a diamond/amethyst band, however, I'm not sure about their prices. I know it's custom made jewelry but it still seems a little steep for what it is. Maybe I'm wrong?
What I definitely know is that the band should be fairly delicate - the ering is a size 8 and while I don't have the tiniest fingers, I've tried out many widths of bands next to the e-ring and since it's very thin, a larger band looks kind of ridiculous with it. I'm not the biggest fan of eternity wedding bands, as I have a few eternity stackers and they're not the most comfortable for everyday wear. I'm also up for color. White diamonds are pretty, but I already own a few white diamond pieces and I want something more unique for my wedding band. White diamonds alternating with a colored gem is something I'd do, though. I'd love to hear all of your suggestions!