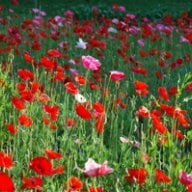 Joined

Nov 9, 2007
Messages

2,516
Blenheim and Jas, thank you for great info. I''m searching around now for what to do when my guy outgrows the infant size, so your insight is very helpful.
We are one month into cloth diapering using kissaluvs with thirsties covers. I ditto the necessity for Allen''s detergent, but it is not spendy and works on all our stuff. We got 24 kissaluvs with 3 covers as hand me downs (yup, used diapers are fine if you wash them!) and so far have saved goodness knows how much. A wet bag makes it just one easy load, though I do a pre-wash cycle and then a full wash with Allens and add vinegar every few times. We prefer the fit of the cloth diapers, they are so adjustable, and have yet to have a leak with them, whereas the swaddles that the hospital gave us leaked, sagged, and these weird chemical crystal things came out of one of them...gross!
LV, aren''t you in Boston or am I just operating on that little sleep? Check out
diaper lab
they have kits, classes, and the website is really helpful as well.
We use fuzzibunz wipes in a wipe warmer (prince lionheart?) that someone gave us. No chemicals and one wipe gets all but the worst poops up. I just read another thread about disposable wipes and am really not sure what the appeal is. I use them when out and am not digging the alcohol smell.
I hadn''t really thought we would be cloth diaper people. It seemed like muss and fuss, but at the end of the day I think it isn''t hard (then again I have washer/dryer in the kitchen and DH is very pro cloth), and while there is an initial investment in the diapers, long term there is a great deal of savings, while perhaps helping our little guy out without all the chemicals in disposables and their presence in landfills.