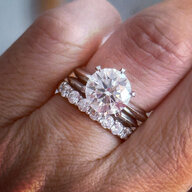 Joined

Jan 14, 2003
Messages

2,790
Now that I have my baby, errh, ring that is, I want to have it insured.
Two weeks ago when I ordered the ring, the Chubb insurance broker I spoke to said it would cost me about $2.34/$100 of appraised value. This was more expensive than State Farm, but I figured it would be worth it in the long run, because in case something happened to the ring, I would much rather have the money given to me and purchase the ring where I want, rather than be told where to go and get something second best.
Today, after receiving my ring, I called the same Chubb broker with plans to have the ring insured as soon as possible, and this time he said that I could only insure the ring if I purchased my home owner''s policy with them and add it as a rider. I tried to call two other Chubb offices and they said the same thing.
Is this something new? Has anyone out there insured with Chubb without a Chubb''s home owner''s policy?
I got a quote on the cost to insure my home and my ring with Chubb, and it would cost me almost $1300 more to insure it with Chubb versus State Farm.
Is it worth the extra money to switch everything to Chubb just to insure my ring? Or should I just stick with State Farm?
Help, I need advice! I want to insure it as soon as possible so I can wear it and not worry about losing it, etc. Plus, I have a wedding to go to on 3/8.