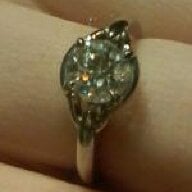 Joined

Aug 31, 2009
Messages

1,199
My chrysoberyl from Tan arrived! I was planning on using this stone to fill an existing mount and give it as a present, but it just doesn't look right with white gold in a vintage mount. So I get to keep it for myself...
Since I had borrowed my boyfriend's macro lens, I took pictures of a few other of my stones while I was at it. I don't know how you guys shade stones and hold up giant cameras at the same time. Or get pictures of stones with pets. The best I got was stones with pet hair.
The new chrysoberyl, about 6.5mm. My photo, then Tan's.