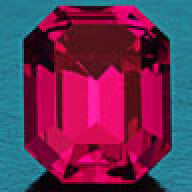 Joined

Aug 13, 2008
Messages

619
With its silky luster and sharp "eye", it is the most beautiful chatoyant gemstone in nature. Chatoyant come from the French "chat" meaning cat, and "oeil", meaning eye.
When the term cat's-eye is used with no other qualifying term, it means chrysoberyl cat's-eye. Other cat's-eye gemstones can include tourmaline, quartz, apatite, diopside, kornerupine and others. The chatoyant effect in chrysoberyl is due to minute parallel cavities. Quartz cat's-eye, the commonest, owes its chatoyancy and grayish-green or greenish color to parallel fibers of asbestos. The fibers or cavities align themselves to the crystal structure in an orderly manner.
Cat's-eye is always cut into a cabochon, since only a tall, rounded shape renders the line of the eye properly visible. Here is an analogy of how the eye is formed: Imagine you are holding a spool of thread, and looking past it, toward a bright point light source (the sun). The hole in the spool runs directly away from you, toward the sun, and the threads curve around the spool, running left and right. There is only one angle where the sun reflects off of the thread, directly toward your eye. That one angle is a straight line across the top of the spool, from the sun to your eye. The cat's-eye works the same way, with the parallel cavities running left and right, over the domed shape of the stone.
An ideal cat's-eye has a very narrow sharp eye, running completely from top to bottom, with no skips or breaks in the eye. The eye seems to float over the translucent body of the gem. If you rock the stone from left to right in the sun, the eye moves back and forth. If the stone is completely transparent, there are no inclusions, and thus no eye. If the stone is opaque, there can be a good eye, but the eye seems painted on. There is a rare, delicate balance between a good eye and good translucency.
Fine cat's-eyes can be quite expensive, well into the price range of colorless diamonds. For many years I found them available in only two qualities: low and very high. I didn't want the low quality, and the very high quality was beyond what I could afford to pay.