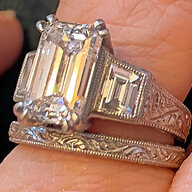 Joined

Apr 6, 2005
Messages

10,177
For those that saw my blue zircon post you know that my hubby had a gorgeous custom pendant made to match my ring and had been working with our jeweler since October on this piece. I had no clue he was doing this when we went to our jeweler's open house. I immediately spotted the most beautiful blue, sparkly bracelet just winking at me through her counter. To say I was drawn to it and immediately smitten was an understatement. I'm sure the drool was just running down the glass.

I of course had to try it on and wear it around and talk with her over and over about it. She had been collecting these round sapphires for several years to get enough for a matched set...... It's so hard to find nice round sapphires that match, etc, etc. I have to tell you that knowing what she knew, she played her part well and never gave away that she and hubby had something else planned. But I fell and I fell hard. What can I say, sapphires are my kryptonite. I'm pretty sure I talked about nothing else but that bracelet afterwards and it was at the top of my Christmas wish list. So hubby had to break down and tell me that he had something else planned for my Christmas present.
But being a very loving and aware hubby he knew I really, REALLY wanted that bracelet.
Soooooooooooo, let me introduce you to my early birthday and early, early anniversary present, lol. It's 11.10cts of round brilliant cut gorgeous blue sapphires w/ .63cts of accent diamonds that are F VS1 and cut in Belgium. Hubby is actually happy because he is off the hook for next year until Christmas.