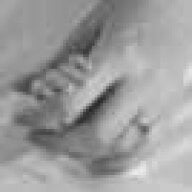 Joined

Feb 20, 2003
Messages

2,573
I need help choosing between two christening gowns. DH and I like both dresses, although we have different first choices. I have seen the first dress in person at an outlet mall, and I have a 25% off coupon for that store that expires Tuesday and makes Dress 1 about $10 more than Dress 2. I really like the design of both dresses, but am nervous I haven't seen the second dress in person and do not have details about its construction.

I would love to know which dress you would choose and why.

Descriptions from sellers:

Dress 1: This timeless white silk dupioni Christening gown has a beautifully smocked bodice with ecru hand embroidery. The gown is finished with tucks along the skirt. Matching hand-smocked bonnet included. Lined. All Strasburg Children Christening Gowns feature French seams (which eliminate raw, "itchy", edges on inside seaming), hand hemming, hand embroidery, feather stitching and/or hand smocking - all of which are standard elements of a Strasburg Creation.
Dress 2: This beautiful gown is part of our new ''Laura Ashley'' collection. Elegant 26" Silk Dupioni Gown with Beaded Lattice Bodice and Smocked Waistband. Includes Matching Bonnet and Separate Slip.

Photos to follow.