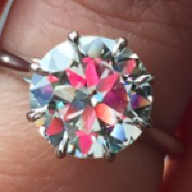 Joined

Jan 12, 2014
Messages

48
Hi experts,
I'm looking for a gift for my mum. I want to get purchase a diamond (up to .6 carat) to have in a simple pendant. I am quite enamored with the idea of a heart shaped diamond.
What things should I be looking for? I am a little confused about ratios. I don't want it to look to long and skinny or too short. Is this size too small for hearts? I can just go for a simple round.
So far I have been looking on
blue nile
and
james allen
. Is this a good place to start?
Looking forward to hearing your thoughts!