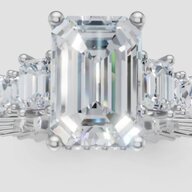 Joined

Jun 2, 2004
Messages

11
okay,
y''all have probably seen the new diamondsareforever campaign aimed towards the independent woman of today?? "left is we, right is me"??? well i have to admit that i was a sucker for that media blitz.
i guess you could say i fit the description of that independent woman of today: thirty-something single career gal. tired of the whole dating scene. financially independent. raised by a momma who loved jewelry. inherited her 4.8 carat round solitaire when she died. still, had an insatiable itch for an emerald cut diamond.. well despite having a great boyfriend in my life, the campaign made me realize that hey, i could buy myself that diamond i have been craving...no strings attached, never have to give it back (or feel guilty for not giving it back...).
anyway, had a big tax refund this year and earmarked it for landscaping, but on a trip to san francisco, i went browsing, (really, i was "just looking") and lo and behold, impulse buy of the century...see down below. ummm, guess landscaping will have to wait a bit.
i''m really very excited about my purchase as impulsive as it may have been. sometimes i wonder if i should have researched more, but the pleasure i get from this ring is really priceless. as my brother pointed out when i was checking out the diamond "buy it sis, you know mom is up in heaven smiling down at you saying you deserve it..." and i really feel she is...