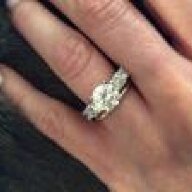 Joined

Dec 28, 2015
Messages

24
Hello all,
My saga to try to get my upgraded engagement ring straightened out continues. After talking with DH, we decided we felt strongly about having all 3 of my original stones incorporated in my engagement ring, which is why we went the 5-stone route in the first place, so we're going to stay the course. (I had been talking about changing to just a 3-stone with my new center stone and 2 second largest stones.) Therefore, I am going to have a 5-stone trellis design made. (14K yellow gold with 14K white gold trellis.) I will attach pics below of the ring from Debebians that I took into my local jeweler and asked for my 5-stone design. (They could not do a trellis design like that, so I ended up settling for plain prongs.) Now I hopefully can get what I wanted. Also, I've decided that since I'm having a whole new setting made, I'm going to go ahead and upgrade to the center stone I eventually planned to get--in the range of 2.0 to 2.2 carats--so I won't have to do this again.
I've contacted
Brian Gavin
Diamonds and asked for a quote, which they are working on. I also asked Debebians for a quote on modifying the ring pictured to accommodate my stones. (It's designed for sides of .25 and .15; mine are .43 and .25.)
Are there others you would recommend I try for this project? Would appreciate any thoughts!
Thanks!
Here is the ring I wanted--note how the center diamond is a bit more prominent, and the end stones are set low and angled slightly, to avoid the "bowtie" effect going on in my ring that's resulting in my end stones rubbing my pinky and middle fingers constantly.
My ring: