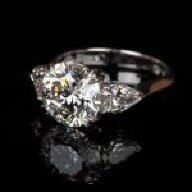 Joined

Feb 18, 2013
Messages

570
I received my legacy inspired split shank ring from ERD!!

It is supposed to be my new RHR but boy it looks great as an ER!!
Just a bit of background…after I upgraded my engagement ring a year ago, I debated what to do with my old MRB diamond. I have some weird attachment to my old diamond even though it isn't even my original diamond. Not sure why but I couldn't sell it which would have been the most logical! I finally landed on resetting it into a double halo with pink melee on the inner halo for a RHR. In working with Chris at ERD on a quote, he actually voiced his concern that I might not want that much finger coverage. So off I went to Tiffany's to look at the Soleste again. I hated to admit it but he was right and I really appreciate his honesty. That led me to trying on the Tiffany legacy, which I never thought I would like…but it was love at first site! So the CAD project began!
I incorporated a split shank and pave on the stems and donut, as well as a cushion shape halo with a round diamond. When I picked up the fedex package my first reaction was OMG, I can't wear this as a RHR! The finger coverage was way more than I imagined (and I wanted a double halo?) and it kind of outshines my ering! After the initial reaction though, I quickly fell in love with it! The ring honestly exceeded my expectations and I have been staring at it ever since I got it! It is so delicate and the miligrain is superfine, which is exactly what I wanted. If I could tweak just one thing, I would take a nail file to the halo corners and just shave it like a ½ of mm, so it was slightly rounded. But, it is still gorgeous!
I actually could have saved a ton of money if I just halo'd this diamond instead of upgrading a year ago! I have been wearing it as a RHR but I probably won't do that as regularly as originally planned. I think I will wear it as an alternative ering sometimes or an RHR as the mood strikes!
I do want to thank all of you that helped me through this journey! You guys are SOOOOOO supportive and helpful!! I also want to thank Chris at ERD…he has the patience of a saint! I totally would recommend ERD for custom settings!
Oh and some stats…the center stone is 2.3ct I SI2 and the ring is sized at 6 3/8.
Starting with the picture in my car in the fedex parking lot (no patience)!