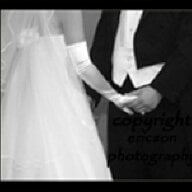 Joined

Jan 9, 2003
Messages

112
Hello All!

I have posted on this board a number of times. When my husband bought me my ering, he asked what I preferred and I always told him a SQUARE princess cut diamond. He bought me a beautiful SQUARE .73 VVS2, E, princess cut. I loved it but a prong appeared damaged. When we took it to my trusted jeweler after having many problems with the one he chose, he said the prong was damaged and needed another setting, but the prong apparently when he took it out of the setting was set around an INDENTED NATURAL. Of course the jeweler stated he wasn''t comfortable resetting it with this pointed out edge in the corner of the diamond for possibility it would chip. So, we had it polished. It never occurred to me that polishing would change the shape, I was aware it would lose some weight. Now it is a rectangular princess which I never preferred. My husband knows my dissatisfaction with the diamond as I miss the beauty it had in the square shape.

BUT, he appears hurt that I would like to trade it in for a square princess. What to do???? He said he would consider upgrading in like 5 YEARS!!!!!!!!!!! Am I being selfish????? It just isn''t the diamond he proposed with.

Any feedback is appreciated!