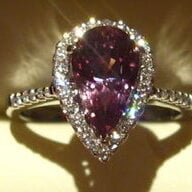 Joined

Jun 29, 2008
Messages

10,224
Do you believe in fate? I do! Fate brought me and my new beauty together (with a little help from a PS thread and David from DBL realising who I was)!

I have wanted a true Chameleon diamond for AGES. It's been something on my wish list but I never thought I'd own one. I do now! Here are the stats:-
Weight: 1.01ct
Cut: Radiant Cut
Clarity: SI1
Colour: Fancy Deep Brownish Greenish Yellow (Chameleon) - talk about hedging your bets on the colour!
Polish: Very Good
Symmetry: Good
Fluor: Strong Yellow Fluorescence
This is a diamond with a multiple personality! I know that chameleons change after being kept in the dark and if heated but this one seems to change colour depending on the light source. When I opened the package, she was a greenish yellow, I took her out into the fading daylight and she started to look a gorgeous yellow (which I haven't managed to capture on camera). Inside again, she looked more green under electric lighting. In all honesty she arrived fairly late in the day so I haven't been able to enjoy all of her personalities but I'm looking forward to that!
What surprised me most was the amount of fire I'm seeing. Predominantly yellow, green, orange and blue! She's a real sparkler!
What I'd love to do is set her on fire and see the colour change with heat but I'm too scared so I'm just going to have to rely on David's video for that one!!! I do think though that the orange fire I'm seeing is probably a great indicator of the colour she'll change to.
Okay so I know she's not the best cut diamond in the world, I know she's not the best colour changing chameleon money can buy, I know that for a 1ct she faces up a bit smaller than other diamonds and I know that some people regard chameleons as novelties BUT ........ I DON'T CARE! I LOVE HER!

Giving credit where it's due - David from DBL was very upfront and honest with me about all her little quirks but you know what? The diamond is so much better than I expected and I'm genuinely thrilled! Thank you David!
So, without any more waffle (can you tell I just want to ramble on about her?), here she is! Tons of photos to follow!

First up, David's photos and videos ..............
http://rockdiamond.com/index.php/jewelry/loose-diamond-101ct-chameleon-radiant-diamond-gia-report?PHPSESSID=a607fe4e62259ad66b50d34f6e36b829
This is what I saw when I opened the parcel and it's remarkably similar to David's photo!