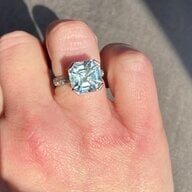 Joined

May 30, 2015
Messages

544
Do you know which style (s) you want? ive found that through eBay there are quite a few Japanese sellers. It's quite a thing in Japan to wear something for a short while and then need the next latest design. No problems with fakes as it's actually a criminal offense in Japan to sell / deal in counterfeit goods. You just have to watch the sizing, mostly more the more petite. I'm happy to search for you.
Does it have to be Cartier or might you consider something else? For $2,000 in Cartier you'll only get Stainless style with maybe gold accents (sometimes only gold plated). You can get a lot more for your money if you go "vintage" including solid gold and maybe even diamonds! I'm a watch collector btw.
@Bron357
now I have decided on the medium Panthere perhaps you might be able to suggest Japanese sellers that are safe? I have seen a couple of potential options on Chrono24 and a couple on 1st Dibs (not sure how safe 1st dibs is)
I thought the size small Panthere was lovely when I saw it in person, very fluid and bracelet-like. I think it depends on the look you are going for- I think either the small or medium would work for most body frames. The mini was too mini IMO. Definitely choose based on what you like not just on cost… it's worth it to wait for what you want if you aren't 100% happy with the small.
Yes could not do the mini. Considering the small as there are a lot more options pre-loved which is the way I have to go. I didn't mind it on me but everyone I showed the images to in my family said they prefer the larger size
I love the panthere - and bought one for my 40th for that reason! I love the look of the larger one on you.
Yes I think it is preferable to the small it may mean waiting to find one